I have developed a Vegan massage wax to fulfil the needs of therapists and clients who do not wish to use any animal products.
I make all the wax myself in small batches in beautiful South Wales. Traditionally massage wax uses beeswax to harden oil and help with absorption of the product, but my products use a plant wax therefore cutting out the need for beeswax. I also use beautiful organic shea butter, organic sunflower oil and a range of organic essential oils (in the scented wax products).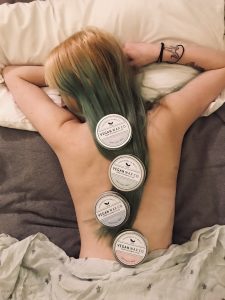 All the waxes are tested on therapists and clients, no animals are involved at any stage.
The waxes are sold in 100 gram and 200 gram tins which are re-usable and recyclable.
We chose tins rather than plastic as we couldn't guarantee that there was no animal content in the plastic and we are all keen to use as little plastic as possible these days. Also the tins are really cute, you can keep all sorts of things in them when you're done with your wax!